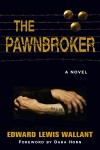 Nov 24, 2015
By Erika Dreifus
One of the wonderful things about social media is that it makes all sorts of things possible. Like "attending" the National Book Awards ceremony via live-stream and/or Twitter hashtag, from the comfort of one's own computer screen. (Sure, you miss out on the cold-lobster appetizer, and the apple millefeuille with vanilla ice cream—but you can wear sweats and you don't need a ticket.) Such is how I became a fly on this particular wall, anyway.
I didn't watch the full festivities, but I did catch the announcement of the awards in young-adult literature, poetry, nonfiction, and fiction. So I want to say a public "Congratulations!" to all of the winners, finalists, and long-listed authors/titles.
As I followed along, I couldn't help wondering what the event must have been like back in 1962—when Edward Lewis Wallant's The Pawnbroker was up for the award in fiction.