By Erika Dreifus on January 5, 2016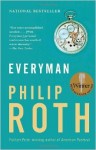 Welcome to our first blog post for 2016. We've got a real treat for you today: the latest contribution to our ongoing discussions of major works of American Jewish fiction (that we didn't happen to publish!). Up now: a review of Philip Roth's Everyman, a past winner of the PEN/Faulkner Award for Fiction.
We're happy to have freelancer Rebecca Foster's analysis, which begins:
It has now been about three years since Philip Roth, then 79, famously announced his retirement from fiction-writing. In a look back over Roth's career—spanning half a century and 30 books—Everyman (2006) might fade into the background, especially given the book's novella length. But to overlook it would be a mistake: This is a near-perfect fable about the life we build through decades of small choices and the death that is always lying in wait, whether we feel ready or not.
Good stuff, right? Why not read the full review?