By Erika Dreifus on May 10, 2016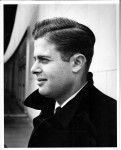 Here at Fig Tree Books, we've taken pride in fostering appreciation for American Jewish literature beyond the books that our Company publishes. Over the past 18 months or so, we've been especially pleased to publish an array of freelancer-written discussions of significant/"classic" works. Moving forward, we're planning something a little different.
Last month, we shared with you news of the most recent Wallant Award ceremony. Quoting a press release, we noted: "Established more than 50 years ago, in 1963, by Dr. and Mrs. Irving Waltman of West Hartford to honor the memory of the late Edward Lewis Wallant, author of The Pawnbroker and other works of fiction, the Wallant Award is today one of the oldest and most prestigious Jewish literary awards in the United States. It is presented to a Jewish writer, preferably unrecognized, whose published work of fiction is deemed to have significance for the American Jew."
The annual prize ceremony inspired us to revisit the list of past Wallant Award recipients. And then, a new idea emerged: Why not shift some of our appreciative attention specifically to books that have won the prize that honors Edward Lewis Wallant? It would be another way, following our re-issue of The Pawnbroker—that we can honor his legacy. Simultaneously, we can enrich the broader discussion of excellent Jewish books.
To that end, we invite you to return to the blog in the coming months for brief spotlights—typically written by yours truly—on these books. I'm looking forward to reading (or, in some cases, re-reading) these titles as I prepare to "talk" about them with you! Please do check back.