By Erika Dreifus on January 27, 2015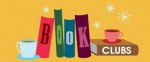 We're immensely proud of our first four books, which will begin to reach bookstores in March. We believe that together, they'll provide readers with a diversity of voices from and insights into American Jewish Experience (AJE). As unique as each book is, however, we also believe these novels share one notable quality: they're all excellent titles for book clubs and groups to read together.
To that end, we're developing suggested questions to help guide discussions for each book. So far, you can find (and download) question sheets for Alan Cheuse's Prayers for the Living (out in March); our new edition of Meyer Levin's classic Compulsion (coming in April); and Jonathan Papernick's The Book of Stone (available in May). Don't worry—a similar resource will be available soon for Jessamyn Hope's Safekeeping (to be published in June).
Even better: The resource pages linked just above include information on how you might invite our authors to connect with your group.
We'd love to know how your discussions of our books unfold. Please be sure to tell us via Twitter, on Facebook, or via via email. We're listening!