By Erika Dreifus on June 30, 2015
From June 21-23, I had the great pleasure of representing Fig Tree Books at the annual conference of the Association of Jewish Libraries (AJL). This gathering, which changes location each year, met just outside Washington for a special 50-year "jubilee" celebration.
Most of my time at the conference was spent at the Fig Tree table in the exhibition space.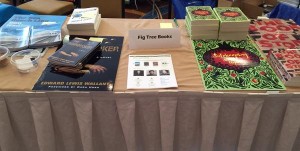 But I did manage to sit in on a few of the fascinating panels listed in the program book. When I reported on these events on Twitter, it seemed that a summary of one of them—"Writing An Excellent Book Review"—would be especially appreciated. So here is that summary.
Subtitled "Tips and Tools for Librarians," the session was introduced and moderated by Rachel Kamin. Panelists included FTB author and NPR book commentator Alan Cheuse, Michael Dirda, Elissa Gershowitz (who has also summarized the panel in a post of her own), Michal Malen, and Lisa Silverman.
Kamin opened the session by sharing a small guide–a "Little Blue Book"–by Leo Markun. First published in 1925, this pamphlet-like text with "Hints on Writing Book-Reviews" reminds would-be reviewers how important it is to have a broad knowledge of life and books in order to write worthy reviews. (Also emphasized: "There is no fortune" to be made in book-review writing.) I've since ordered a copy of this guide myself, and I look forward to studying it more closely.
Each panelist provided a number of insights (and some intriguing anecdotes) from their book-reviewing experiences. Herewith, a brief list of some highlights from their collective advice:
You must know your audience/readership. And even in ostensibly similar publications, attention must be paid to differences. Panelists cited as an example how the reviews they write for Jewish Book World necessarily differ from those they complete for the AJL's own Reviews publication.
Reading a book does not qualify you to review it; reviewing a book involves more than simply writing your opinion. You must bring a deep background in reading to this work.
"Make the whole piece as entertaining as possible." Writing craft and style matter for reviewers, too. Or, as another panelist put it, you can only be a reviewer if "you love reading and you love to write." If you lack those qualities, there's no point in trying.
Accurate description matters more than "Olympian judgment."
Avoid spoilers. One panelist cited (as what not-to-do) an example of a review of a whodunit that revealed the criminal's identity. Big-time spoiler.
Avoid "empty words." (This tip reminded me at once of one of Ron Charles's many instructive–and entertaining–brief videos.)
The panelists also discussed (and at times debated) such issues as how critical/negative they might be in reviews and how they deal with self-published titles submitted for review.
Overall, it was a lively and memorable session. I'm very glad that I was able to attend it.