By Erika Dreifus on November 4, 2014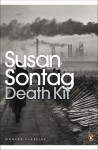 We are proud and delighted to inaugurate our series of new reviews of older books with a superb piece by Carl Rollyson on Susan Sontag's Death Kit.
When Carl pitched this review to us shortly after we announced our freelance reviews project a few weeks ago, we couldn't have anticipated that Sontag would be in the news again so soon. But then a Los Angeles Review of Books piece on Sontag's digital archive began making the rounds. (We can't be sure, but we imagine that Sontag's return to literary headlines may have inspired The New Yorker to remind its Twitter followers of an archived profile of the author, too.)
So, do you want to read Carl's review? It's just one click away. We hope that you enjoy it!