By Erika Dreifus on October 13, 2015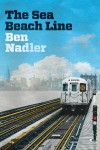 At long last, this day has come: the official publication date for Ben Nadler's beautiful novel The Sea Beach Line.
Critics have been generous in their pre-publication praise. And we'll be celebrating at a book launch—featuring Ben in conversation with Andrew Duncan Worthington—at BookCourt in Brooklyn next Sunday.
In the meantime, here are five more ways you can celebrate with us—anytime:
Drop Ben a congratulatory message on Twitter (where he goes by @bwnadler).
Read some rave reviews from early readers.
Ask your favorite librarians and booksellers if they've already ordered their copies.
Share this post on your social-media channels.
And last, but by no means least: buy the book! (It's available in both print and e-book formats.)