By Erika Dreifus on May 9, 2017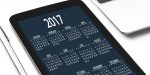 Tonight in New York City, in an event titled "Reclaiming Ritual: A Jewish Woman's Education," our Abigail Pogrebin (My Jewish Year) will be in conversation with Rabba Sara Hurwitz and Rabba Yaffa Epstein. They will be introduced by Rabbi Avi Weiss. Reservations are required, though the event is free; it is co-sponsored by Yeshivat Maharat, ImmerseNYC, and the Pardes Institute.
But if you can't make this event—or you're not in the New York area in the first place—we've got some good news for you: The My Jewish Year calendar continues to expand.
We've recently been delighted to add news of appearances in the Berkshires, Buffalo, St. Louis, and Omaha to the already-extensive list. Although we don't yet have full details for each event, you can certainly "save the dates" noted here on the calendar. Please stay tuned for more!