By Erika Dreifus on January 24, 2017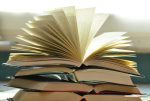 Want to do a good deed? How about supporting quality Jewish literature?
Here are five free and easy ways to get started.
Have you read and enjoyed a Jewish book lately? Share your enthusiasm! Add a rating and review on Amazon, Goodreads, or any bookish site you prefer.
And recommend the title to your book club or reading group!
Did one sentence in that novel or memoir or story or poem stand out? Why not tell the Twitterverse? Consider participating in David Abrams's #SundaySentence project, which invites readers to share the best sentence they've read during the past week, "out of context and without commentary." (I've been doing this for years—see all of my #SundaySentence selections archived on my own website. You'll find a quite a few Jewish-lit selections recorded there.)
Suggest that your library purchase Jewish-literature titles. Depending on the libraries you frequent, think about your local public library, your congregation/JCC library, your university library. Many libraries have online forms and links for precisely this purpose. (See, for instance, the New York Public Library's "Recommend a Title" page.)
Starting to hear buzz about a forthcoming book? Put it on your Goodreads "want-to-read" shelf. In addition to a potential algorithm boost for the book, you'll be doing yourself a favor: You'll receive an alert if and when the book becomes available as part of a Goodreads giveaway.
So those are just five free and easy ways to support Jewish literature and the writers who produce it.
Do you have some other ideas to add? We'd love to collect your suggestions in comments and come up with a mega-list.