By Erika Dreifus on December 13, 2016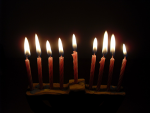 Hadassah magazine has just published an oh-so-moving excerpt from Abigail Pogrebin's forthcoming My Jewish Year: 18 Holidays, One Wondering Jew. Titled "Hanukkah at the Bedside," the piece sets Hanukkah observance in the context of a loved one's illness. It's brief, and it's beautiful, and we encourage you to take a few moments to read it.
Speaking of Hanukkah: We should probably mention that although My Jewish Year hasn't yet been published, it is available for pre-order from your favorite brick-and-mortar or online bookseller. So if you'd like to gift it to a friend or family member, you could always pre-order it—and include an explanatory I.O.U with your card.
In other My Jewish Year news, we're delighted to announce that there's a new opportunity to win an advance copy. Please go on over to Goodreads to learn more and enter the giveaway. Good luck!