By Erika Dreifus on March 17, 2015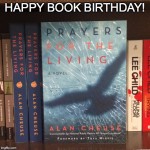 It's a big day for everyone at Fig Tree Books: the official publication date for our very first book, Alan Cheuse's Prayers for the Living, featuring a foreword by Tova Mirvis. Featuring a fabulous foreword by Tova Mirvis, the book has received advance praise calling it a "powerful saga of a rabbi turned businessman's rise and fall" (Shelf Awareness) that is "replete with beauty and heartbreak" (Foreword Reviews).
Please join us in celebrating this occasion. Maybe wish the author a Happy Book Birthday (or Mazal Tov!) on Twitter (he is @ACheuse). Or read those wonderful reviews that are coming in.
You might also plan to see Alan at one of his upcoming events. This week, you will find him at BookCourt in Brooklyn on Thursday and at Politics & Prose in Washington on Saturday (details are available on our Events page). And you can always "visit" with Alan from the comfort of your computer screen in this recent reading and conversation with Rabbi Dan Ain.
Of course, you can also just go right ahead and buy the book. (As you can see, it's on bookstore shelves!) It's available in both print and e-book formats. Something for everyone!
If you've read a galley and enjoyed it, please share your thoughts on Goodreads (or Amazon). Or maybe just go ahead and buy the book from your favorite bookseller (we've seen it in stores already, as this photo attests!). It's available in both print and e-book formats.
Thanks for sharing our excitement!