By Erika Dreifus on May 17, 2016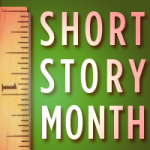 Maybe you already know that April is National Poetry Month. That tradition is relatively well established and recognized. But did you know that May brings another reason for literary celebration? That May has been designated Short Story Month (SSM)?
No? Read on.
Short Story Month is generally credited to Dan Wickett, who wrote a guest post for our friends at Fiction Writers Review back in 2011 that explains the project's origins. Although we have yet to publish a short-story collection here at Fig Tree Books—and authors and agents should note that our focus on novels means that linked collections that read like "novels-in-stories" are more likely to pique our interest—we're quite aware of the importance of short stories in Jewish literature.
To that end, this seems to be a propitious moment to remind you of some writings we've published here on the FTB website about significant collections of Jewish short fiction. These include:
If you haven't yet read these excellent discussions, Short Story Month is the perfect time to do so.
And we're curious: Which Jewish short stories (individual stories or collections?) are among your favorites?
I'll kick things off by referencing a short piece that I contributed some time back—again, on Fiction Writers Review, to celebrate another year's Short Story Month—about a standout story, "Body Count," by my friend Margot Singer. ("Body Count" appears in her magnificent collection The Pale of Settlement.)
Now, it's your turn! Let's try to get an excellent reading list going here for anyone interested in Jewish short stories.