By Erika Dreifus on October 7, 2014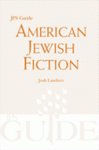 You read that right. We're looking for people to write book reviews for our site. (And yes, we will be paying those writers whose reviews we publish.)
Interested? Keep reading.
We're proud that the Fig Tree Books website is now home to content drawn from Joshua Lambert's American Jewish Fiction: A JPS Guide, a compendium of 125 reviews of important literature that deals with the experiences of American Jews. By incorporating this book's companion website into the Fig Tree website, we have been able to include many of the summary reviews that appeared in the Guide as well as a list of hundreds of other important works Lambert was not able to cover.
And that's where you come in. We're looking for smart, enthusiastic readers to write about the books that Lambert wasn't able to include so that we may further enrich the conversation about fiction that evokes and engages with American Jewish experience.
These are really terrific books. Chances are, you may have read at least a few of them already. Or been meaning to. The list includes novels by famous authors: Saul Bellow, Michael Chabon, Cynthia Ozick, Susan Sontag, and so many others. But it also features plenty of titles by authors who aren't quite so well-known, so if you're looking to branch out in an unfamiliar direction reading-wise, we can probably help you there as well.
Please click here for the full list–and for a link to the all-important query guidelines.
We look forward to hearing from you. And we look forward to publishing your writings on these books.