By Erika Dreifus on September 27, 2016
Jessamyn Hope, author of the ever-so-popular novel Safekeeping, has received some excellent news from the Jewish Public Library in Montreal: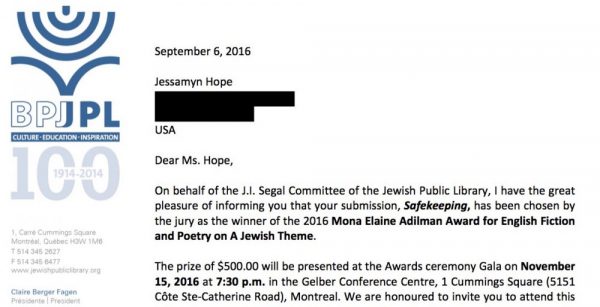 How about that?
We admit it: We're kvelling.
The Mona Elaine Adilman Award for English Fiction and Poetry on a Jewish Theme, which is the honor that Jessamyn's book has received, is among the J.I. Segal Literary Awards, administered by the Jewish Public Library in Montreal.
The purpose of these biennial awards, established in 1968 and named for the Yiddish-Canadian poet J.I. Segal, "is to encourage and reward creative works on Jewish themes and to recognize contributions in Jewish education, both formal and informal." Segal, in the library's words, "strove to show that 'a people and its culture are inseparable.'"
To us, that resonates perfectly with Safekeeping. (Don't you agree?)
We are thrilled for Jessamyn and her book. Please join us in the congratulations!