By Erika Dreifus on April 5, 2016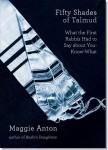 Maggie Anton is familiar to many readers as the author of the popular trilogy Rashi's Daughters, the first installment of which, Joheved, is the subject of Adina Bernstein's analysis in the latest installment of our "freelance review" project. (You can read that piece right here.)
What we did not realize when we made this assignment was that the author had a new project in the works. And it's something!
It's Fifty Shades of Talmud: What the First Rabbis Had to Say about You-Know-What. Per the official description:
Amusing. Seductive. Stimulating. We're talking about the Talmud? That's right. Take fifty actual Talmudic discussions, mix in pithy sayings (appropriate and inappropriate) by luminaries from Mae West and Amy Schumer to George Washington and Gandhi, add a few cartoons, and voila—delighted and enlightened readers will come away with a new perspective on what the ancient Jewish sages say about our most intimate relationships.
Mazal tov to Maggie Anton on her latest publication. And thank you, again, to Adina Bernstein for revisiting one of the author's "classics."