By Erika Dreifus on October 28, 2014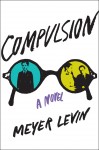 Among our inaugural list titles is a classic literary thriller that we're proud to be re-issuing: Meyer Levin's Compulsion, a documentary novel inspired by the (in)famous Leopold and Loeb case of 1924. Levin's novel was first published–to great acclaim (and sales)–in 1956. And so we've been digging back through archives to discover a bit more about its own history.
That's how we're able to tell you that on this date–October 28–back in 1956, Compulsion received some high praise in the New York Herald Tribune. As Book Review Digest 1956 cites critic Rose Feld's analysis:
[Compulsion is a] book which can take its place with Dreiser's "American Tragedy." To its telling Levin brings a compelling creative power rooted both in subjectivity and objectivity. As a campus contemporary of the two criminals, as a precociously bright cub reporter called Sid Silver in the book, he writes with the immediacy and intimacy of first-hand knowledge of the principals in the case. To this he adds the maturity of a man and novelist who probes the influences, the motives and compulsions, the psychological and pathological forces, that led to the monstrous crime…Familiar as are the essential details of this case, familiar as is its outcome, Mr. Levin succeeds brilliantly in creating high suspense in his fictional retelling of it.
Intrigued? You can read the first chapter right here on our website. Even better: Compulsion is available for pre-order (IndieBound link coming soon). And if you want to see what people have been saying about Compulsion more recently than 1956, check out Harold Schecter's fresh praise.