November 10, 2015
FOR IMMEDIATE RELEASE
Contact: Fredric Price
Publisher
FPrice@FigTreeBooks.net or 914-234-2268
THE PAWNBROKER: A Novel
by Edward Lewis Wallant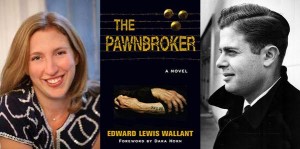 "In the short time [Wallant] was writing – about three years wherein he considered himself and was considered a serious writer – he was counted as part of a brilliant group of postwar Jewish American writers – Saul Bellow, Bernard Malamud, Norman Mailer and Philip Roth among them. That Wallant died so young, unable to travel on with these writers, is criminal, especially given how prolific he was. But the novels he finished in his short life are all miniature masterpieces." — Dave Eggers
BEDFORD, NY (November 10, 2015) — Many novels are published each year, but only a few may ever become classics. The Pawnbroker (November 10, 2015; original trade paperback, $15.95; e-book, $10.99) by Edward Lewis Wallant (1926-62) is one of those exceptions; Fig Tree Books is proud to issue a new edition, featuring a riveting foreword by acclaimed author Dara Horn.
Initially published in 1961, The Pawnbroker was one of the first American novels to engage with the lingering trauma of the Holocaust. Set in Harlem, it remains likewise valuable as an exploration of fraught relationships between Jews and other American minority groups in its era.
Upon release, the book received wide critical acclaim. Kirkus called it "a strange, haunting, powerful book," and a New York Times review declared that it "deserves the attention of every serious reader." The Pawnbroker sold over 500,000 copies soon after publication, was a National Book Award finalist, and secured its young author a Guggenheim Fellowship. Sidney Lumet's 1964 film adaptation starred Rod Steiger in an Oscar-nominated performance as the titular pawnbroker, Holocaust survivor Sol Nazerman. Notably, Lumet's film was the first Hollywood production to depict the Nazi extermination camps as evoked in Nazerman's nightmarish memories.
Tragically, Wallant died just one year after The Pawnbroker's publication. Fig Tree Books aims for a new generation of readers to discover The Pawnbroker and the immense literary and cultural contributions of its author. Orders to the trade can be placed with Publishers Group West, a division of the Perseus Books Group (800-788-3123, orderentry@perseusbooks.com). Consumers may purchase copies anywhere books are sold.
###
THE PAWNBROKER: A Novel by Edward Lewis Wallant
Foreword by Dara Horn
Fig Tree Books; November 10, 2015; original trade paperback, $15.95, ISBN 978-1-941493-14-4; e-book, $10.99, ISBN 978-1-941493-15-1
About Edward Lewis Wallant: When he died at 36 in December 1962, Edward Lewis Wallant had published two novels: The Human Season (1960), which received the Harry and Ethel Daroff Memorial Fiction Award for the year's best novel on a Jewish theme, and The Pawnbroker (1961), which was a National Book Award finalist and secured Wallant a Guggenheim Fellowship. Two additional novels – The Children at the Gate and Moonbloom—were published posthumously. The Daroff Award was subsequently re-named in Wallant's honor: The Edward Lewis Wallant Award is now presented annually at the University of Hartford in the late author's native Connecticut; recipients have included Chaim Potok, Cynthia Ozick, Francine Prose, Nicole Krauss, and Dara Horn.
About Dara Horn: Dara Horn is the author of four widely acclaimed novels and the recipient of honors including the National Jewish Book Award, the Reform Judaism Fiction Prize, the Harold U. Ribalow Prize, and the Edward Lewis Wallant Award. She earned a PhD in comparative literature from Harvard University and has taught courses in Jewish literature and Israeli history at Sarah Lawrence College and The City University of New York; in 2014, she held the Gerald Weinstock Visiting Professorship in Jewish Studies at Harvard, where she taught Yiddish and Hebrew literature. She lives in New Jersey with her husband and four children.
About Fig Tree Books: Fig Tree Books sources, publishes, and promotes literary, young-adult, and graphic novels (in print and e-book formats), as well as memoirs that chronicle and enlighten the unique American Jewish Experience (AJE). The Company accomplishes this in three ways: (1) by selecting new voices that have not had the opportunity to publish previously in these genres; (2) by working with previously published authors; and (3) by re-publishing important works that have gone out of print.