By Erika Dreifus on July 31, 2015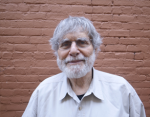 All of us at Fig Tree Books are deeply saddened to have learned of the passing of Alan Cheuse. We are proud and grateful to have had the opportunity to publish Alan's novel Prayers for the Living just this past March. Throughout the entire pre-publication process and in the months since the book's release, we all came to know and admire Alan not only for his remarkable writing talent and intellect, but also for his extraordinary warmth, generosity, professionalism, and all-around good nature. We express our most heartfelt condolences to his wife, Kris; children Sonya, Emma, and Josh; and the entire extended family.
May Alan's memory be a blessing.