By Erika Dreifus on April 4, 2017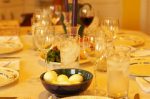 There were many wonderful moments in last week's conversation between our Abigail Pogrebin and Rabbi Joseph Telushkin at the Jewish Theological Seminary. But one of my favorites occurred during the audience Q&A period, when a Passover-related question from one attendee prompted Rabbi Telushkin to refer to a story by the acclaimed Israeli writer S.Y. Agnon (1888-1970).
The questioner had brought up the commandment found within the Haggadah: "Let all who are hungry come and eat." In the exchange that followed, Rabbi Telushkin recalled that the commandment is, in fact, twofold: "Let all who are hungry come and eat. Let all who are in need come and celebrate Passover." He noted that this fuller perspective illuminates one of Agnon's stories. Which, of course, I then immediately wanted to read. (If you want to follow this exchange yourself, I've set this YouTube recording of the event to the moment when it begins.)
With a little (okay, a lot) of help from the wonderful 24/6 folks on Twitter, I was able to narrow the search to "The Celebrants," found within Agnon's novel The Bridal Canopy. And with the riches of the New York Society Library nearby, I was able to obtain a copy of The Bridal Canopy, translated by I.M. Last.
"The Celebrants" unfolds over only a few pages. In the central pair of characters—"Reb Mechel, the beadle," and "the wealthy Sarah Leah," each of whom has been widowed—Agnon goes beyond  the importance of feeding the hungry at Passover. He demonstrates that "all who are in need" may well include people whose needs transcend physical hunger. In other words, as Rabbi Telushkin suggested, those who have experienced losses, who may be suffering from emotional neediness (or sheer loneliness), should also be taken into account. They should also be able to celebrate Passover. Beautiful things may result.
Reading "The Celebrants" made me try to think of other Passover stories or scenes in fiction, but I didn't come up with many. Are there any that you might recommend? Please let us know, in comments. (And since we'll be taking a blog break next Tuesday to do some Passover celebrating ourselves, let us take this opportunity to wish you a very happy and meaningful holiday.)
Not sure why the photo caption doesn't work, but please note the credit: Adam Baker (https://www.flickr.com/photos/atbaker/).