Author:
Laura Hobson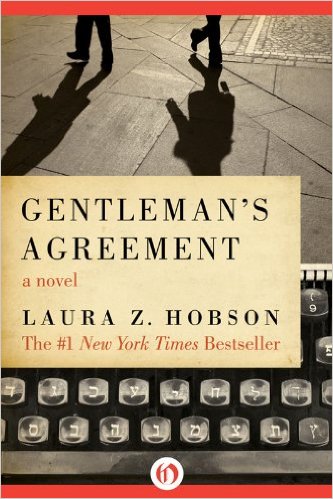 Review by Barbara Solomon Josselsohn
As the nation struggles to address the persistent problem of racism, it seems a fitting time to revisit Laura Z. Hobson's provocative novel about prejudice, Gentleman's Agreement. Published in 1947, the book explores the pervasive anti-Semitism of post-war America – and demonstrates how even those who rail against bigotry may have a lot to answer for.
Phil Green, a journalist, moves to New York with his mother and young son to accept a job with a weekly magazine. For his first assignment, his editor asks him to write a series on anti-Semitism. Phil struggles with how to approach the topic and ultimately decides to research it first-hand by pretending to be Jewish. Unsure of what to expect, he quickly realizes that anti-Semitism is far more prevalent – and far more damaging – than he could have ever imagined.
Hobson skillfully explores how prejudice injures the human psyche, recounting Phil's growing despondency as he presents himself as a Jew and faces subtle and not-so-subtle slights: "Gluey and inescapable, the extraordinary melancholy clung to him," she writes. "Almost constantly he was strung on an unhappy tension, a man racing for a train and uncertain of the watch that said he still had a minute to go."
Over time, Phil learns that his landlord refuses to rent apartments to Jews, and that his company's personnel manager routinely discriminates against Jewish job candidates. The owner of a luxury hotel, believing that Phil is Jewish, refuses to let him check in. And in what feels like an enormous betrayal, Phil's fianceé, Kathy, begs him to abandon the Jewish charade when they visit her sister in Darien, Conn., because it would "start a whole mess" if Jane's neighbors thought Kathy was marrying a Jew. Kathy insists that she's not prejudiced, but Phil – who has come to identify closely with Jews – now realizes that people can do harm even if they aren't overly anti-Semitic:
I've come to see that lots of nice people who aren't are their unknowing helpers and connivers. People who'd never beat up a Jew or yell kike at a child. They think antisemitism is something way out there, in a dark crackpot place with low-class morons. … Millions like them back up the lunatic vanguard in its war for this country – forming the rear echelons, the home front in the factories, manufacturing the silence and acquiescence.
Admittedly, Gentleman's Agreement is dated in some ways. The two main female characters – Kathy, the lonely beauty who wants to marry, and Anne, the hard-drinking newspaperwoman – can seem stereotyped to modern readers. And journalists accustomed to impossible deadlines (not to mention the 24/7 Internet culture) may laugh when Phil's editor urges him to take his time with the assignment and "knock it around for a while." Such advice seems implausible today.
The novel was made into an Academy-Award-winning movie, which starred the incomparable Gregory Peck. But even if you've seen the film, do yourself a favor and read the book. Jewish or not, you'll be moved by Phil's experiences and revelations, and you're sure to gain some new insights into bigotry in all its variations.
---
Barbara Solomon Josselsohn is a freelance writer. Her story, "The Stranger at the Passover Table," appears in the anthology New Mitzvah Stories for the Whole Family (Reclaiming Judaism Press, 2014), and her posts appear often on the website ReformJudaism.org. Her first novel, The Last Dreamer (Lake Union, 2015) is due out in December.
Want to keep up with all of our recent reviews of classic books? Follow us on Twitter, "like" us on Facebook, and sign up for our free newsletter!