Author:
Daniel Handler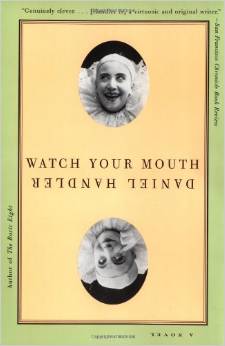 Review by Jennifer Ray Morell
Daniel Handler might be best known for his children's books published under the pen name Lemony Snicket. But Watch Your Mouth, a novel Handler published in 2000, is not suited for young readers. Divided into two distinct sections – one part opera, one part twelve-step program – the novel examines a disturbing and perverse summer in the life of Joseph, the narrator.
After landing jobs at a day camp for Jewish children located in Pittsburgh, Pennsylvania (Camp Shalom), Joseph and his girlfriend, Cynthia Glass, move in with her parents for the summer. In explicit prose, Joseph describes their lively sexual life. Their activity is so near-constant that Cynthia's family must acknowledge it. Her father, Dr. Ben Glass, confronts Joseph and begins what seems like the usual uncomfortable talk between concerned parent and overzealous boyfriend. But their conversation quickly turns darker, with Dr. Glass acknowledging not only that his daughter Cynthia is attractive in a theoretical sense, but also that he finds her attractive, himself. Skirting around the direct issue of incest, Dr. Glass muses about intergenerational sex and society's uptight mores— all to Joseph's horror. Later, from his attic guest room, Joseph becomes obsessed with the sounds he hears from Cynthia's bedroom below, convinced now that Cynthia and her father are sleeping together.
But it doesn't end there. After additional awkward conversations with Cynthia's mother and brother, Joseph begins to believe that incest is occurring throughout the family. His obsessions work well within the format of an opera, which lends an exaggerated framework to the story. While a young man struggles to deal with the horrors of his girlfriend's family, he actively recreates the narrative in a form rife with melodrama and outrageous action: The string section swells at moments of tension, dialogue is broken down into recitative, and parenthetical interruptions inform the reader if the character is delivering their lines as a soprano or a baritone. Of course, this places Joseph's version of events and his veracity as a narrator in question. When the members of the Glass family begin to be killed off, either by a golem created by Mrs. Glass in her basement or possibly by Joseph himself, the narrative truth becomes increasingly murky. At the conclusion of the opera, a narrative structured along the lines of a 12-step program composes the novel's second part. Changes in both the font color and the book's overall tone result. Joseph, now living across the country, tries to heal and recover from the events of that summer. In doing so, he must try to untangle all that he does not entirely understand.
Of the golem, a constant symbol throughout the novel, Joseph describes, "The golem is a figure in Jewish myth—sort of a Jewish lie, sort of a Jewish truth. It appears to wreak havoc but really, it'll do anything you say… It's a monster, sort of, but who isn't a monster occasionally, particularly among family?" Whether the monster is real—whether Joseph's account of the events is true—is no longer the point. What matters is an understanding of families as complex systems, constructed of an infinite number of moving parts, some of which have been scattered across the floor, some of which have been hidden in the darkest recesses of a home. Through bawdy metaphors, plentiful literary allusions (the Glass family's home is located in Byron Circle, near Hemingway Way), and humor ranging from the dark and absurd to slapstick, Handler explores those complexities. 
---
Jennifer Ray Morell is a writer and teacher from Queens, New York. Her writing has appeared in Slate, Tin House, Trop, Newtown Literary, and Underwater New York.
Want to keep up with all of our recent reviews of classic books? Follow us on Twitter, "like" us on Facebook, and sign up for our free newsletter!