Author:
Allegra Goodman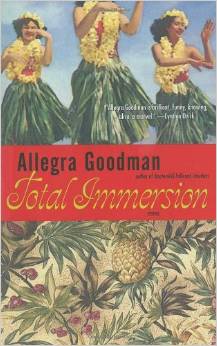 Review by Elizabeth Edelglass
Allegra Goodman arrived at her first day at Harvard to news that her story "Variant Text" had been accepted by Commentary magazine. Four years later, in 1989, she graduated on the day her first book, Total Immersion—a collection comprising "Variant Text" and 10 other stories—was published. Goodman went on to acclaim as the author of novels such as Kaaterskill Falls (National Book Award nominee) and linked stories The Family Markowitz (first Salon Book Award winner). But anyone who has missed Total Immersion has missed the roots of her storytelling and the depths of her themes that were so well established at such a young age.
Seven of the stories take place in the Hawaii of Goodman's youth, where some Jews argue over a successor to the beloved rabbi of Martin Buber Temple ("The Succession"), while others break away to form an Orthodox minyan that meets in a private home ("And Also Much Cattle") and later at the Unitarian church ("Total Immersion"), where members debate introducing egalitarianism to their Orthodox services: " '[T]his group was chartered to run traditional services,' " says Judy Tawil, a Chicagoan married to an Israeli Yemenite, while Terence Glueck, art historian from Miami, replies, " 'Historically we often find that in time, traditions lose their psychological potency. Rituals become emotionally bankrupt.' "
Rituals become emotionally bankrupt—perhaps that is the book's theme. In "Onionskin," Sharon writes from Jerusalem to her Religious Thinkers professor at the University of Hawaii to tell him she believes in God "without any reasons… I guess I'm basically an optimist with nagging metaphysical questions." Alternatively, in "Variant Text," Cecil Birnbaum attends to (and argues over) the daily rituals of Jewish observance, even though he does not believe in God. " 'Halakhah is halakhah,' " he says, and " 'God has nothing to do with [it].' "
This book is not just about differences within the Jewish community. Multiculturalism pervades every aspect of Goodman's writing. Her Hawaii stories are populated by Chinese, Filipinos, native Hawaiians, Catholics, born-again Christians, and all manner of transplanted mainlanders. Her non-Hawaii stories take place in Jerusalem, New York, and Oxford, and they include early introductions to members of the family Markowitz. In "Wish List," Ed Markowitz brings his extended family to the Wantage Institute in Oxford, where he, a renowned terrorism expert, will study peace alongside a Yemenite poet from Brooklyn, an anthropologist just back from studying oral history in Albania, an Israeli Yemenite Communist, a feminist Israeli novelist, and Terence Glueck, that art historian from Miami who specializes in the Mannerists.
What else seems to interest Goodman? Chaotic children, difficult grandmothers, unusual siblings, and competitive parents; also, the absurdity of doctrine, whether academic, religious, political, or social—all rendered with a heartening dose of humor. When an Israeli Wantage Center colleague accuses Ed Markowitz of knowing nothing about terrorist attacks or rescue missions, Ed, the terrorism academician, replies, " 'What do you mean, nothing? I was on-call consultant for Entebbe—the movie.'" Goodman's characters are pompous, cranky, and difficult, but she loves them, which is why the reader will love them, too.
---
Elizabeth Edelglass has won the Lilith story contest, third prize in the Moment/Karma contest, and a Connecticut Commission on the Arts Fellowship. Retired Director of the Jewish Community Library of Greater New Haven, she has work forthcoming in The Ilanot Review and on JewishFiction.net.
Want to keep up with every review we post as part of our freelance review project? Follow us on Twitter, "like" us on Facebook, and sign up for our free newsletter!