Author:
Grace Paley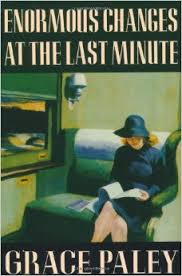 Review by Ilana Masad
Grace Paley, who taught at my alma mater, Sarah Lawrence College, passed away in 2007, but her legacy has remained intact and her stories involve so many of the ideas and discussions that are currently in the media. From class to race to socio-economic status to the complexities of feminism and gender roles, Grace Paley's Enormous Changes at the Last Minute (1974) covers it all.
In the story "Samuel," where four boys are standing in between cars on a running elevating subway, for instance:
One of the ladies wanted to get up and say, Be careful you dumb kids, get off that platform or I'll call a cop. But three of the boys were Negroes and the fourth was something else she couldn't tell for sure. She was afraid they'd be fresh and laugh at her and embarrass her…. Another lady thought, Their mothers never know where they are….
The first official New York State author, Paley takes her material squarely from within the worlds she inhabited: New York City politics, activism, and life as a divorced woman with children in a time where working women, divorced women, and women with sexual desires were not yet as accepted as they are today. New York is the setting for almost all of the stories in Enormous Changes, and even those that take place partly in China (where Paley herself, as well as some of her characters, went to observe Communism in action) circle back around to Manhattan.
Paley's strength as a writer lies in this ability to make you chuckle on the outside and weep on the inside. In another story, "Faith in the Afternoon," which features a recurring character, Faith (whom many have considered to be Paley's alter ego, despite the author's denials), Paley mixes her talent for beautiful, lyrical writing with irony and humor:
Faith's head is under the pillow nearly any weekday midnight, asweat with dreams, and she is seasick with ocean sounds, the squealing wind stuck in its rearing tail by high tie.
That is because her grandfather, scoring the salty sea, skated for miles along the Baltic's icy beaches, with a frozen herring in his pocket. And she, all ears, was born in Coney Island.
Like Faith, many of the stories' narrators are Jewish, with parents or grandparents who emigrated from the Old World of European anti-Semitism and Russian pogroms. But Paley is not sentimental about these ancestors. Instead, her stories embody what we've come to recognize as a characteristically New York Jew: secular, guilty, and politically active.
This is not to say that Paley's work is alienating. It's not. The stories in Enormous Changes are full of complex emotions paired with a self-awareness that is sometimes the author's and sometimes the characters'. The opening story, "Wants," begins with what may be the most heartbreakingly funny lines I've ever read:
I see my ex-husband in the street. I was sitting on the steps of the new library.
Hello, my life, I said. We had once been married for twenty-seven years, so I felt justified.
He said, What? What Life? No life of mine.
I said, O.K. I don't argue when there's real disagreement. I got up and went into the library to see how much I owed them.
This is quintessential Paley. She is a master of the apparent non sequitur that is rich with resonance. This particular story is one of her shorter ones, yet it is as textured as any other, rife with quips between exes that are so comical and unbelievable that they manage to become truer than many others found in literature.
---
Ilana Masad is an Israeli-American writer living in NYC. She is a columnist for McSweeney's, a contributor to The Rumpus and The Toast, and has had her fiction published in Tin House, Printer's Row, Four Chambers Press, and various online zines. She is a writer of reviews and bookish things for bookish publications, a freelance editor and copy-editor, and an agent's assistant. She is also the founder of TheOtherStories.org, a podcast for new, emerging, and struggling writers.
Want to keep up with every review we post as part of our freelance review project? Follow us on Twitter, "like" us on Facebook, and sign up for our free newsletter!