Author:
Philip Roth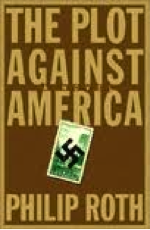 Review by Jill Ratzan
What if noted antisemite Charles A. Lindbergh had won the presidential election of 1940? How might world politics have been different? What might everyday life have been like in America, especially for a Jewish family living in New Jersey? Alternate history can be both an exciting and a daunting genre. Decorated author Philip Roth fully embraces this dichotomy in his 2004 novel The Plot Against America.
Roth's child narrator, whom readers follow from third through sixth grade, is also named Philip Roth, and the family depicted in the novel is hauntingly similar to the author's own. In this fictional universe, however, President Lindbergh cozies up to Hitler, and current events hit close to home.
Philip's parents, neighbors, and community struggle with rising antisemitism, mostly in ways that start off small but become increasingly challenging. Philip's cousin joins the Canadian army; he returns home physically and psychologically wounded. Philip's aunt becomes increasingly entangled in both personal and national politics. And his older brother is sent to live on a Kentucky farm as part of a youth exchange movement whose sinister goals hide quietly behind lofty descriptions.
Perhaps the most daunting element of alternate history is also its most exciting: how to conclude the tale. Does the alternate story eventually return to the narrative of recorded history, and if so, how? Or does it branch off into an entirely different alternate future? No spoiler alert here. Let's simply say that the concluding drama takes readers out of Philip's personal story and situates them in the politics of the larger world. Without question, Roth ultimately forces readers to think about 1940s America in new and often challenging ways.
As opinions swirl around this summer's bestselling Go Set a Watchman by Harper Lee, the debate has inspired many avid readers to pick up—or return to—Lee's classic To Kill a Mockingbird. And this reader has been reminded that those who appreciate thinking of the macrocosm of history from the microcosm of a child's point of view would do well to read—or, again, return to—Roth's novel as well.
---
Bio: Jill Ratzan is a sharer of stories and organizer of information. She writes about Jewish and secular books for BookPage, School Library Journal, and MyJewishLearning.com while practicing the art of librarianship in central New Jersey and southeastern Pennsylvania. Visit her on the web at http://jratzan.weebly.com.
Want to keep up with all of our recent reviews of classic books? Follow us on Twitter, "like" us on Facebook, and sign up for our free newsletter!