By Erika Dreifus on December 1, 2015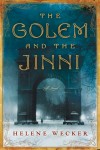 At a ceremony taking place later today, author Molly Antopol will be awarded the 2015 Harold U. Ribalow Prize for Jewish fiction from Hadassah Magazine. Which means that it was about one year ago that I attended the event celebrating the 2014 awardee, Helene Wecker, and her winning novel, The Golem and the Jinni.
It also makes the latest addition to our collection of writings on major works of American Jewish literature especially well-timed.
In this installment, you'll find reviewer Amy Sawatzky's take on Wecker's novel. The piece begins: "In Helene Wecker's 2013 novel The Golem and the Jinni, New York City, 1899, serves as the new home for communities of Eastern European Jews and Syrian Christians. The city, and especially its ethnic neighborhoods, act as rich environments that highlight thematic contrasts— new/old, familiar/foreign, known/unknown,—that often define immigrant experience."
Upon re-reading the review, I realize that it's even more well-timed than I realized when I considered the Ribalow chronology. Take a few moments to read it, and see what you think.