By Erika Dreifus on May 30, 2017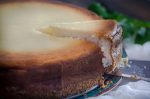 We're about to embark on the Shavuot holiday, which means that many of us may be up very, very late tonight.
The Shavuot chapter in Abigail Pogrebin's My Jewish Year is one of my own favorites. (In fact, it's inspiring me to attempt an all-night study-fest this year myself, for the very first time.) So it was especially gratifying to receive a request from the team at the Reform Judaism site regarding the possibility of sharing a chapter excerpt.
If you haven't yet seen that excerpt, you'll find it here. And of course, you can read the real thing, in full, in My Jewish Year itself.
Chag sameach!