By Erika Dreifus on November 3, 2015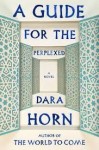 "At age 15, Dara Horn was learned and eloquent beyond her years." So begins the latest in our series of new looks at important works of American Jewish literature: Elizabeth (Liz) Edelglass's discussion of A Guide for the Perplexed, a 2013 novel by Dara Horn. Liz goes on to note that a couple of decades later, this author's talents are no less impressive.
We certainly agree. Which is why we're especially thrilled not just to share this new piece with you, but also to note that Dara Horn is the author of an outstanding new foreword that opens our re-issue of Edward Lewis Wallant's classic The Pawnbroker.
Our edition's official publication date is just one week away. We can't make the foreword publicly available just yet. But don't worry–the wait is nearly over: The Pawnbroker's official (re)-publication date, November 10, is just one week away. Please join us in proud anticipation.
And in the meantime, please enjoy Liz Edelglass's review.