By Erika Dreifus on May 2, 2017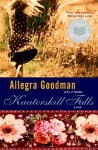 As we have mentioned, this blog runs a certain series. In each series post, we take an appreciative look back on a book that has won the Edward Lewis Wallant Award. Wallant, as you may recall, died at the tragically young age of 36 back in 1962. The previous year, he published the classic novel The Pawnbroker, which was a National Book Award finalist. We re-issued that novel (with a foreword by Dara Horn) in late 2015.
The award in Wallant's memory is presented annually "to an American writer whose published creative work of fiction is considered to have significance for the American Jew." We think it's worth re-focusing some spotlights on the authors and books that have been honored with the prize named for Wallant. And in this post, we spotlight Allegra Goodman's Kaaterskill Falls, which won the prize for 1999.
I've long admired Allegra Goodman and her work, both of which I became acquainted with back when I was a college freshman and acted in a play that she—a student two years ahead of me— had written. I'd read a number of her books over the years (and we've previously featured one of them on this site, too). But somehow, I hadn't yet read Kaaterskill Falls, Goodman's debut novel. Nor had I realized that, like Wallant's own The Pawnbroker, Kaaterskill Falls was a National Book Award finalist.
It seems fitting, though, to have read this book now, just as another Jewish American Heritage Month begins. In that spirit, I'll quote briefly from Helene Meyers's excellent analysis of Goodman's novel in Identity Papers: Contemporary Narratives of American Jewishness as I attempt to provide a brief summary:
Kaaterskill Falls is an Austenesque novel that centers on the Kirshners, an Orthodox community that makes its home in upper Manhattan and summers in upstate New York. Set between 1976 and 1978, the novel chronicles this community in transition due to the aging Rav Elijah Kirshner, who fled Germany with his followers shortly before Kristallnacht.
These lines come from a chapter in which Meyers focuses on "Feminism and Orthodoxy," and indeed, much of the novel unfolds through the sensibility of female characters and their desires, which at times conflict with the values of their community. But there are men who struggle in this novel, too. Moreover, the novel depicts Jews who aren't members of the Kirshner community—not to mention characters who aren't Jewish—thus providing some sense of the intramural diversity of American Jewish experience as well as portraying interactions between Jews and members of other identity groups.
The novel also happens to be beautifully written. Take, for example, these lines: "In Kaaterskill, the first week of November, snow falls thick on the houses and banks up high on the piles of dead leaves. The trees drift in sudden white. The gardens where the summer people played at badminton and growing vegetables are now white and still. Laden with snow, the branches of the Birnbaums' fir tree swoop down to the ground."
"This is the United States of America," one character tells another in Kaaterskill Falls. "You can do whatever you damn well please." The extent to which this is true for any of the novel's characters back in the 1970s may be up for debate. For that matter, the question may be up for debate in our own day. But this much is certain: Allegra Goodman's Kaaterskill Falls remains a magnificent novel of American Jewish experience. And I am so very glad that, at long last, I have spent time in its world.