By Erika Dreifus on September 6, 2016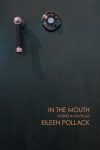 As previously mentioned, we have launched a new blog project here. In each series post, we're presenting an appreciative look back at a book that has won the Edward Lewis Wallant Award.
Wallant, as you may recall, died at the tragically young age of 36 back in 1962. The previous year, he published the classic novel The Pawnbroker, which was a National Book Award finalist; we re-issued that novel  (with a foreword by Dara Horn) last fall. The award in his memory is presented annually "to an American writer whose published creative work of fiction is considered to have significance for the American Jew." We think it's worth re-focusing some spotlights on the authors and books that have been honored with the prize named for Wallant.
In this post, we focus on In the Mouth: Stories and Novellas. Written by Eileen Pollack, this book was honored with the Wallant Award in 2008.
Having now had the pleasure of reading the book for myself, I find much insight in this San Francisco Chronicle review by Heller McAlpin:
The name Boca Raton, Eileen Pollack reminds us in her fierce new collection of stories and novellas, some of which are set in that mecca for affluent Jewish retirees, means mouth of the rat. The oral imagery of Pollack's title, "In the Mouth," is apt on several levels, as three of the six stories are about retired dentists (like her late father).
Although Pollack's writing has teeth, her dominant concern is not with maws but with complex relationships between elderly parents and grown children. It is not stretching the metaphor to say that most of her characters, young and old, find themselves at the mouth of new but not always welcome eras in their lives.
Once you discover Eileen Pollack's work – this is her fourth book – you're surprised she isn't better known. She is equally adept writing from the point of view of men and women, and unafraid of extreme situations and graphic physical imagery….
The strongest story, "The Bris," was included in the Best American Short Stories of 2007. In it, 48-year-old Marcus Sloan is taken aback by his dying father's last request from his Boca hospital bed: He wants Marcus to arrange for his circumcision. Although his father "had lived a completely Jewish life for seven decades," it turns out that he was merely passing as a Jew. Born to abusive Baptist parents in rural Texas, he fled by enlisting in the army as a teenager. As a young veteran, he ended up marrying the owner's daughter of the Orthodox Jewish Catskill resort where he worked. His late wife knew the truth about him but took it with her to her Orthodox grave. Uncircumcised, James can't be buried with her. Somehow, he kept putting off conversion, afraid of the procedure. His son conjectures, "Maybe he hadn't been able to face the idea of giving up that last little bit of the man he used to be."
Pollack milks this scenario for both its dark humor and its pathos. Marcus, an accountant who views life as a balance sheet, feels indebted to his father, "like a gambler who could never repay his bookie." Reluctantly, he launches a desperate, hilarious search for a willing rabbi, mohel, pediatrician – anyone to do the deed so he isn't forced to take "matters into his own hands – literally."
"The Bris," entertaining as it is, also raises serious questions about what it is to be Jewish and about the necessary give and take – without accounting – in relationships.
A few points:
Eileen Pollack has published still more books since this one (this is not longer "her fourth book"). Visit her website for more info.
As good as "The Bris" is, perhaps the story that has stayed longest with me from this collection is "Milk," in which two women from different ethnic/socioeconomic backgrounds spend several days as maternity-ward roommates. (I recommend that you read In the Mouth in its entirety, of course, but I can also point you to the text of "Milk" online.)
And this (sort of) brings me back to the Wallant Award, because about a year ago, Eileen Pollack very generously contributed this "blurb"/commentary for us to use as we re-issued The Pawnbroker: "We don't need to imagine how shocking The Pawnbroker must have been to readers in the early 1960s because it is still that shocking to us. Without a trace of sentimentality, Edward Lewis Wallant wrote the Great American Novel of Redemption. Before anyone else, he showed us that only by recognizing in others the face of human suffering could the individual survivor—whether male or female, Jewish, black, or Puerto Rican—transcend his or her inheritance of trauma and pain."
So I say: As with the work of Edward Lewis Wallant, Eileen Pollack's writing can be read for its significance for the American Jew. But it should also be recognized for its significance for all readers. The two are not exclusive.