By Erika Dreifus on November 8, 2016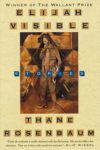 As previously mentioned, we have launched a new blog project here. In each series post, we take an appreciative look back on a book that has won the Edward Lewis Wallant Award. Wallant, as you may recall, died at the tragically young age of 36 back in 1962. The previous year, he published the classic novel The Pawnbroker, which was a National Book Award finalist. We re-issued that novel (with a foreword by Dara Horn) one year ago.
The award in Wallant's memory is presented annually "to an American writer whose published creative work of fiction is considered to have significance for the American Jew." We think it's worth re-focusing some spotlights on the authors and books that have been honored with the prize named for Wallant. In this post, we spotlight Thane Rosenbaum's Elijah Visible: Stories, which won the prize 20 years ago, in 1996.
Indeed, with its status as "Winner of the Wallant Prize" printed on its very cover, Rosenbaum's short-story collection was something of a revelation to me when I read it circa 1999. I might have been forewarned by the "blurb" from Elie Wiesel (z"l) that also appeared on the cover: "Thane Rosenbaum is totally obsessed with the Holocaust. His stories reflect that obsession. They are written with sensitivity and pain." Forewarned, yes. But still not entirely prepared.
As another learned reader, Sanford Pinsker, commented in praise cited on the book's back cover: "The nine stories if Thane Rosenbaum's Elijah Visible make for a noteworthy literary debut—not only because they introduce a distinctive voice to American Jewish fiction, but also because they represent a significant shift in how stories of the Holocaust can be told in and for our time." Yes.
My own copy of Elijah Visible, which I brought to a long-ago conference at the Yiddish Book Center with the hope that Rosenbaum might sign it (he did!), occupies an important place on my bookshelf. And all these years later, I still have a bookmark holding a place at what I found to be one of the most powerful and resonant stories, "An Act of Defiance." In ways that may be too inchoate to explain, Rosenbaum's work in this book influenced me not only as a reader, but also as a writer of short stories that dealt with post-Holocaust issues.
Maybe all of this helps explain why it meant so much to me when Rosenbaum agreed, readily, to "blurb" our edition of The Pawnbroker, which was released one year ago this week. (You'll find his thoughts on the book's page.) On this anniversary, especially, we're proud to recognize Rosenbaum's own Wallant Prize-winning work, too.