By Erika Dreifus on March 8, 2016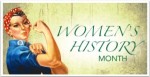 As you may have been reminded already, March is National Women's History Month. It's a good time to remind ourselves of the achievements and contributions of some of our favorite American Jewish women writers—especially on this March day, which is also International Women's Day.
But first, some background.
Women's History Month had its origins as a national celebration in 1981 when Congress passed Pub. L. 97-28 which authorized and requested the President to proclaim the week beginning March 7, 1982 as "Women's History Week." Throughout the next five years, Congress continued to pass joint resolutions designating a week in March as "Women's History Week." In 1987 after being petitioned by the National Women's History Project, Congress passed Pub. L. 100-9 which designated the month of March 1987 as "Women's History Month." Between 1988 and 1994, Congress passed additional resolutions requesting and authorizing the President to proclaim March of each year as Women's History Month. Since 1995, Presidents Clinton, Bush and Obama have issued a series of annual proclamations designating the month of March as "Women's History Month."
(As for International Women's Day, you can find out more here.)
Lately, we've been looking over the reviews of significant works of American Jewish fiction that we've published here on the FTB website. And we're pleased to spotlight these excellent discussions of works by American Jewish women writers.
Beyond that, of course, our own ever-growing catalogue features Jessamyn Hope (author of Safekeeping); Tova Mirvis, Marcia Clark, and Dara Horn (who have written incisive forewords for our re-published titles); and Abigail Pogrebin, whose My Jewish Year: 18 Holidays, One Wondering Jew we'll publish next year. We look forward to continuing to champion the voices and stories of American Jewish women writers for a long time to come.