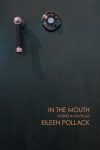 Sep 6, 2016
By Erika Dreifus
As previously mentioned, we have launched a new blog project here. In each series post, we're presenting an appreciative look back at a book that has won the Edward Lewis Wallant Award.
Wallant, as you may recall, died at the tragically young age of 36 back in 1962. The previous year, he published the classic novel The Pawnbroker, which was a National Book Award finalist; we re-issued that novel  (with a foreword by Dara Horn) last fall. The award in his memory is presented annually "to an American writer whose published creative work of fiction is considered to have significance for the American Jew." We think it's worth re-focusing some spotlights on the authors and books that have been honored with the prize named for Wallant.
In this post, we focus on In the Mouth: Stories and Novellas. Written by Eileen Pollack, this book was honored with the Wallant Award in 2008.