June 8, 2015
FOR IMMEDIATE RELEASE
Contact: Fredric Price
Founder and Publisher
+1-914-234-2268
FPrice@FigTreeBooks.net
FIG TREE BOOKS LLC TO EXPAND BEYOND LITERARY FICTION
BEDFORD, NY (June 8, 2015) — Fig Tree Books, a new publishing house focusing on exploring the diverse American Jewish experience, announced that it is now accepting memoirs and young-adult and graphic-novel manuscripts in addition to literary novels that are concerned with the American Jewish Experience (AJE).
The Definition of the AJE
Fredric Price, founder and publisher of Fig Tree said, "We typically describe 'American' as dealing with the people or institutions of the United States; this does not mean that the protagonist must be a citizen or that the action must take place exclusively within our country. But the book needs to be grounded in American values, culture or history and American readers need to be able to identify with the characters and the story.
"For us, the 'Jewish experience' means engaging with what it means to be a Jewish American, or how one goes about his or her life practicing (or denying) his/her Judaism, or how one copes with Jewish identity, or deals with social/political/cultural issues associated with being Jewish or interactions between/among Jews and other groups.
"This acceleration of our plans to broaden our reach is based on the successful launch of literary novels on our first list. Agents and authors can submit a manuscript by clicking on https://figtreebooks.net/submit-a-manuscript/."
Fig Tree's Current List
The four books on Fig Tree's first list included: PRAYERS FOR THE LIVING by National Public Radio (NPR) commentator Alan Cheuse (March 2015) with a foreword by Tova Mirvis, author of THE LADIES AUXILIARY; COMPULSION by the noted author and playwright Meyer Levin (April 2015), with a foreword by famed author and attorney Marcia Clark as well as an introduction by Gabriel Levin, Meyer Levin's son; THE BOOK OF STONE by critically acclaimed writer Jonathan Papernick (May 2015); and SAFEKEEPING, a debut novel by Jessamyn Hope (June 2015).

Fig Tree recently announced its list for the fall 2015 season, which includes THE SEA BEACH LINE, a novel by Ben Nadler (October) and a new edition of THE PAWNBROKER by Edward Lewis Wallant (November), featuring a foreword by acclaimed novelist Dara Horn. THE PAWNBROKER is a worthy companion to COMPULSION — these works of art represent two of the most significant novels of American Jewish fiction in the twentieth century, and THE SEA BEACH LINE reflects Fig Tree's continued commitment to emerging authors with unique voices and important stories to tell.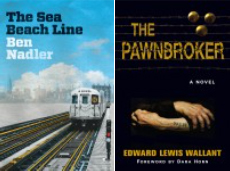 About Fig Tree Books
Fig Tree Books sources, publishes, and promotes literary, young-adult, and graphic novels (in print and e-book formats), as well as memoirs that chronicle and enlighten the unique American Jewish Experience (AJE). The Company accomplishes this in three ways: (1) by selecting new voices that have not had the opportunity to publish previously in these genres; (2) by working with previously published authors; and (3) by re-publishing important works that have gone out of print. While the books that Fig Tree plans to publish inform the American Jewish experience, the Company interprets this mission broadly. "Our goal is that readers of all faiths and traditions will relate to and appreciate the stories we publish," said Michelle Caplan, Editor-in-Chief. "Fig Tree will champion emerging and unique voices, and create a place where writers can launch their work with significant support."
The Company can be followed on Twitter — www.twitter.com/FigTreeBks and on Facebook — www.facebook.com/FigTreeBks. More information on Fig Tree Books can be found on the Company's website — www.FigTreeBooks.net — including how to:
make manuscript submissions;
read a chapter of any of our books for free;
sign up for our newsletter;
request review copies;
meet our staff; and
find out how we decided on the name Fig Tree Books.