March 14, 2017
FOR IMMEDIATE RELEASE
Contact: Fredric Price
Publisher
FPrice@FigTreeBooks.net
914-234-2268
MY JEWISH YEAR: 18 HOLIDAYS, ONE WONDERING JEW
by Abigail Pogrebin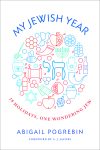 "To understand the Jewish calendar, Abigail Pogrebin immersed herself in its rhythms and rituals for a full twelve months. Her riveting account of this experience serves as a lively introduction to Judaism's holidays and fast days and opens a window on how Judaism is actually lived in 21st-century America."
~Jonathan D. Sarna, University Professor and Joseph H. & Belle R. Braun Professor of American Jewish History, Brandeis University; author of American Judaism: A History
"[An] insightful, clever, funny, and compulsively readable volume….both humorous and inspiring. Even knowledgeable Jews will find wisdom and new perspectives in these pages."
~Publishers Weekly
"A modern take on a pilgrim's journal, this account will offer insight for Jewish and non-Jewish readers alike."
~Library Journal
BEDFORD, NY (March 14, 2017)—MY JEWISH YEAR (Fig Tree Books LLC; March 14, 2017; hardcover; $22.95; e-book, $14.99) by Abigail Pogrebin is a spirited chronicle of the author's deep dive into the heart of Judaism.
Why do Jews seem to celebrate so many holidays? And what makes these holidays especially powerful and urgent in this modern moment? Although she grew up following some holiday rituals, journalist Abigail Pogrebin realized how little she knew about their foundational purpose and current relevance. She wanted to understand what had kept these holidays alive and vibrant, in some cases for thousands of years.
So Pogrebin took a deep and very personal dive into the Jewish calendar. She interviewed rabbis and scholars; she researched and observed nearly every ritual and fast, no matter how obscure or obtuse. MY JEWISH YEAR is the rich, entertaining, and very honest book—a much-expanded version of Pogrebin's popular series for the Forward—chronicling this quest.
MY JEWISH YEAR travels through the Jewish calendar's signposts with candor, humor, and a trove of information, capturing the arc of Jewish observance through the eyes of a relatable, wandering—and wondering—Jew. The chapters are interspersed with brief reflections from prominent rabbis and Jewish thinkers.
Maybe you're seeking an accessible, digestible roadmap for Jewish life. Maybe you'd appreciate a fresh exploration of what you've mastered. Whatever your motivation, you'll be educated, entertained, and inspired by Pogrebin's unusual journey—and by MY JEWISH YEAR.
###
MY JEWISH YEAR: 18 HOLIDAYS, ONE WONDERING JEW
by Abigail Pogrebin with a foreword by A.J. Jacobs
Fig Tree Books LLC; March 14, 2017; hardcover, $22.95, ISBN 978-1-941493-20-5;
e-book, $14.99, ISBN 978-1-941493-21-2
Abigail Pogrebin's immersive exploration of the Jewish calendar began with her popular 12-month series for the Forward. Now, in MY JEWISH YEAR, Pogrebin has expanded her investigation ―infusing it with more of her personal story and exposing each ritual's deeper layers of meaning.
Pogrebin is also the author of Stars of David: Prominent Jews Talk About Being Jewish, in which she discussed Jewish identity with 62 celebrated public figures ranging from Justice Ruth Bader Ginsburg to Steven Spielberg, from Mike Wallace to Natalie Portman. Pogrebin's second book, One and the Same, about the challenges of twinship, is grounded in her own experience as half of an identical pair. Most recently, she published "Showstopper," a bestselling Amazon Kindle Single that recalls her adventures as a 16-year-old cast member in the original Broadway production of Stephen Sondheim's flop-turned-cult-favorite, "Merrily We Roll Along." Pogrebin's articles have appeared in Newsweek, New York magazine, The Daily Beast, Tablet, and many other publications. Pogrebin was formerly a producer for Ed Bradley and Mike Wallace at CBS News' 60 Minutes, where she was nominated for an Emmy. Before that, she produced for broadcasting pioneers Fred Friendly, Bill Moyers, and Charlie Rose at PBS.
A frequent speaker at synagogues and Jewish organizations around the country, Pogrebin has for seven years produced and moderated her own interview series at the JCC of Manhattan called "What Everyone's Talking About." Abigail Pogrebin lives in New York with her husband, David Shapiro, and their two teenage children.