September 26, 2016
FOR IMMEDIATE RELEASE
Contact: Fredric Price
Publisher
Email: FPrice@FigTreeBooks.net
Twitter: @FigTreeBks
Facebook: FigTreeBks
+1-914-234-2268
SAFEKEEPING Wins the 2016 Mona Elaine Adilman Award for English Fiction and Poetry on a Jewish Theme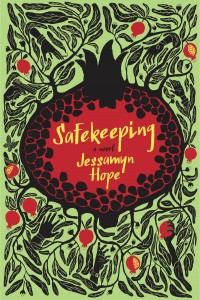 BEDFORD, New York (September 26, 2016)—Today, Fig Tree Books LLC is delighted to announce that Safekeeping, a debut novel by Jessamyn Hope, has been recognized as the winner of the 2016 Mona Elaine Adilman Award for English Fiction and Poetry on a Jewish Theme. The honor is conferred as one of J.I. Segal Literary Awards administered by the Jewish Public Library in Montreal.
The purpose of these biennial awards, established in 1968 and named for the Yiddish-Canadian poet J.I. Segal, "is to encourage and reward creative works on Jewish themes and to recognize contributions in Jewish education, both formal and informal." Segal, in the library's words, "strove to show that 'a people and its culture are inseparable.'"
"We are absolutely thrilled to see Jessamyn Hope's beautiful and important novel receive this honor," said Fredric D. Price, Fig Tree's publisher. "We know that Safekeeping's many fans will join us in congratulating its gifted author."
Spanning centuries and locations—including New York, Israel, and Montreal—to tell its story, Safekeeping was published in 2015 to rave reviews. Since its release, it has become a popular choice among book clubs and groups.
Jessamyn Hope will receive her award, which includes a $500 prize, at an official ceremony in Montreal in November.
# # #
About Fig Tree Books: Fig Tree Books LLC, established in 2013, publishes literature that enlightens the unique American Jewish experience. Its titles include novels and memoirs from debut and previously published authors as well as important works that have gone out of print. Books are published in print and e-book formats and distributed to the trade by Publishers Group West, a division of the Ingram Content Group.