Author:
Naomi Ragen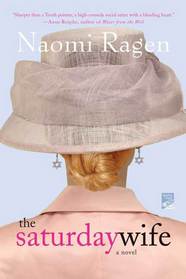 Review by Karen Skinazi
In 1964, Chaim Potok gave readers a glimpse into the lives of ultra-Orthodox men and boys with his groundbreaking novel, The Chosen, and he continued to reprise this theme until the mid-1980s, when he introduced his first and only female protagonist in Davita's Harp, a story of the tug-of-war between what Potok called "two fundamentalisms"—secular and religious.
At that point, women writers stepped in (or as Sheryl Sandberg might say, "leaned in"), taking the stories of women into their own hands and making them less about ideology and more about lived experience. These writers—including Faye Kellerman, Anne Roiphe, Tova Reich, and Naomi Ragen—were steeped in Jewish custom, but uninhibited by literary tradition. They successfully turned women's rituals of the mikvah and considerations of kashrut into the matter of crime fiction, epistolary novels, satire, drama, romance, and, as The New York Times called Ragen's first novel, Jephte's Daughter (1989), "Jewish Gothic."
Jephte's Daughter is an ambitious novel that invokes and revises the stories of Tolstoy, George Eliot, and the Torah as it takes us on a dramatic journey from poolside California to cloistered Me'ah Sha'arim to London's arts scene. At the outset, Ragen's heroine seems to come, but for her Jewish observance, from a Harlequin romance novel. In her gem-colored clothes, Batsheva HaLevi is a raven-haired, silver-eyed beauty, with firm breasts and long slim thighs. Descended from a fictional Hasidic rabbinical dynasty, Batsheva agrees to wed a promising Torah scholar, hoping he will prove a worthy lover.
Here is where Ragen shifts from the tropes of the romance novel to those of the gothic. Immersed in an insular world of ultra-Orthodoxy, our heroine is subjugated by her deeply devout Hasidic husband, who beats his wife, steals her money, and tortures her and their son psychologically. Halfway through the book, our once-beautiful heroine is dressed in sack clothes, her hair shaven, all hope depleted. That there is another half to the book—and that Ragen is an optimist, and less a writer of gothic fiction, ultimately, than romance—means that there's more to the story. There is also more to Haredi Judaism than the cruel husband. Providing examples of loving men and good marriages, and giving attention to the value of Jewish observance, Ragen resists making her Haredi villain emblematic of Haredi men and culture at large.
With The Saturday Wife (2007), Ragen seems to have come full circle. Published after a series of novels that, like Jephte's Daughter, plumb the Torah's rich lore of abused women (Jephte's daughter, Dina, Tamar), Ragen turns in The Saturday Wife to an abusive woman: Delilah. To be fair, Delilah doesn't beat her dull, slow-witted husband; she merely manipulates him, threatens everything he believes, and leads him down a destructive path paved with her ambition.
In this novel, the ravishing temptress (yes, named "Delilah") is the wife of a Samsonesque rabbi, Chaim Levi. Rabbi Levi's wife prods him into leaving the synagogue in the Bronx for which he is well suited (the congregation is old and respectful and their demands are on his kindness—which is bountiful—not his intellect, which is not) for a newer, flashier congregation in Connecticut for which he is less well-matched.
In fact, this Delilah's sins have little flesh. The premarital sex Delilah believes she had before meeting Chaim may or may not have happened. The Bronx congregation effectively falls apart before Delilah actually pushes Chaim into abandoning it. Although she is witnessed in compromising situations with men, she doesn't actually engage in extramarital affairs. Overall, she functions more as a source of humor than horror. If Delilah Levi lacks spiritual depth—her idea of a chesed project is giving Israeli women who lose their handbags in terrorist attacks new, high-end handbags because "if you give victims money, they'll just spend it on the house or on food"—some readers may find her no more or less than a deeply satirical reflection of affluent Modern Orthodoxy, which is what takes the real beating in The Saturday Wife.
This fictional engagement with Modern Orthodoxy is interesting, and some of Ragen's barbs may be justified. But the stereotypes in The Saturday Wife are, at times, a little over the top. It seems clear that Ragen's best writing is about the Haredi community, so it's exciting to see that she's returned to it as the subject of her most recent work of fiction, The Sisters Weiss (2014).
---
Karen E. H. Skinazi, Ph.D., is an academic practice advisor at University of Birmingham (UK). Her essays have appeared in a number of academic journals, as well as such popular venues as The Jewish Daily Forward and Tablet Magazine. In 2012, Skinazi published a critical edition of Winnifred Eaton (Onoto Watanna)'s Marion: The Story of an Artist's Model, and she is currently working on a book about contemporary Jewish Orthodox women's literature.
Want to keep up with all of our recent reviews of classic books? Follow us on Twitter, "like" us on Facebook, and sign up for our free newsletter!