Author:
Gerald Green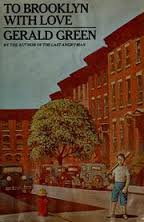 Review by Louis Gordon
Gerald Green's To Brooklyn With Love (1967) might be the greatest bildungsroman to have ever been forgotten by the literary establishment. Set in the Brownsville section of Brooklyn in the 1930s, Green's novel recounts a day in the life of Albert Abrams, aged 12, the bespectacled, uncoordinated son of a frustrated doctor. In the narrative span of a single day, Green manages to elucidate the difficulty that Abrams, a sensitive boy with the highest IQ in the history of his school, has in finding acceptance among the streetwise toughs who inhabit the gritty neighborhood. Indeed, Green's depiction of the neighborhood is at least as compelling as his portrayal of Albert. Once known as "the Jerusalem of America," the tapestry of the Brownsville of this era incorporates elderly Jewish sages, Irish policemen, African-American youth, and budding members of the gangster group known as "Murder Incorporated."
Albert may be the apple of his father's eye, but he has more problems convincing his peers and neighbors of his worthiness. In the course of a day, he must dodge an array of intimidating individuals. In Albert's efforts to secure some dignity for himself, Green reveals a profound understanding of the psychology behind those sensitive children who are often the subject of bullying and ridicule, as well as an appreciation of the struggles members of the immigrant Jewish population had to face in the largely impoverished neighborhood. See, for instance, this depiction of an elderly Jewish store owner, Gotbetter, as he complains to a policeman that his store has been burned down by Jewish gangsters:
"Royined! Royined! Nottink! Not a penny insurance!"
"Hands off, Jake," the cop said. He unfastened Gotbetter's midget hand. "Whaddaya want me to do, light a candle?"
And now, to Albert's visceral horror, the cop smiled. It was a flat, wide smile, and for many years to come, Albert would recognize that same bloodless, unfunny smile on storm troopers, SS guards, young men selling Social Justice, and the crowds keeping Negro children out of Southern schools.
One wonders why this novel has received relatively little discussion in critical circles. Perhaps some explanation rests in the timing of its publication, in late 1967, the very year that some of the worst urban riots in the United States occurred. By then, the Brownville neighborhood had become a predominantly African-American ghetto; Jews who still worked in the neighborhood, teaching in the local schools were faced with anti-Semitism and other challenges. With America's cities burning, critics may have seen Green's sentimentalism for the neighborhood of his youth as failing to emphasize urgent issues of the time. In 2015, however, the novel's messages may resonate more strongly, especially with a younger generation of readers facing some of the universal challenges of growing-up that confronted Albert Abrams.
---
Louis Gordon earned a master's degree in professional writing from the University of Southern California and is a member of the National Book Critics Circle.
Want to keep up with every review we post as part of our freelance review project? Follow us on Twitter, "like" us on Facebook, and sign up for our free newsletter!