Author:
Herman Wouk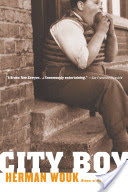 Review by Miriam Kates Lock
"On a golden May morning in the sixth year of Calvin Coolidge's presidency, a stout little dark-haired boy named Herbert (Herbie) Bookbinder, dressed in a white shirt, a blue tie and gray knee breeches, sat at a desk in Public School 50 in the Bronx, suffering the pain of a broken heart." With these words, the reader is introduced to Herbie, the eleven-year-old protagonist of Herman Wouk's 1948 novel City Boy.
It is the late 1920s, when the word "gay" is still understood primarily as a synonym for "happy," and fathers still give misbehaving eleven-year-old boys a "licking." Herbie, a Jewish boy growing up in the Bronx, is self-conscious about his appearance and struggles to fit in with his peers. Short, smart, and overweight, Herbie has a lively imagination; he would rather be reading than playing ball games.
City Boy takes the reader for a bumpy and sometimes hilarious ride through Herbie's escapades in school and at Manitou, the summer camp run by his school principal. With Herbie each day is an adventure – in school, as he struggles with his friendships and loves, first for his seventh grade teacher and then for a red-haired girl named Lucille; and at camp, where he learns to live with his peers and to thrive in the camp's competitive atmosphere.
Herbie Bookbinder's Bronx world is one in which eleven-year-old boys think they will be eleven forever; for excitement, they play in empty lots and visit the candy store where a "frap" can be purchased for a dime. Herbie lives in a small apartment in a big brick building on a street filled with buildings that look just like his. He has a stern, silent father, and a soft, loving mother who do their best to raise him and his sister. Herbie's life is filled with boys like Lennie Krieger, son of Herbie's father's partner, who mocks Herbie for his weight and often makes his life miserable. Luckily, Herbie has one trustworthy best friend: his cousin Cliff, with whom he roams the city streets and shares his adventures.
Although 67 years have passed since City Boy was published, adults and youth alike will find it easy to relate to Herbie Bookbinder and his entertaining story.
---
Miriam Kates Lock is a writer and translator who has been writing for most of her life, starting with poetry and stories as a child and writing essays, book reviews, and articles in adulthood. Raised in Chicago, she made Aliyah to Israel in 1983 with her husband and young daughter. Today, she has three grown children and a full-time job as a translator. She still tries to make the time to read and write as much as she can.
Want to keep up with all of our recent reviews of classic books? Follow us on Twitter, "like" us on Facebook, and sign up for our free newsletter!