Author:
Anne Roiphe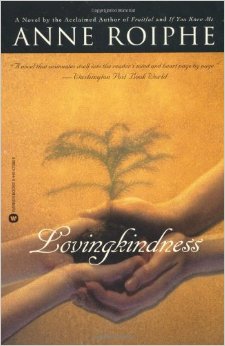 Review by Kathe Pinchuk
In Lovingkindness (1987), Anne Roiphe probes the complexities of the mother-daughter connection through Annie Johnson, an independent and strongly feminist widow, and her daughter Andrea.
Perpetually aimless and irresponsible, Andrea telephones from Israel to tell her mother she is studying Judaism at Yeshiva Rachel. Annie is concerned. "There was something too kind in her tone. It made me sweat. I was always waiting for some definitive, end-of-the-line call. We've found your daughter in a ravine outside of Las Vegas with her throat cut, we've found your daughter dead of an overdose in a pickup truck with a Hell's Angel, we've found your daughter naked hallucinating on the L.A. freeway. I had anticipated a lot of phone calls. I had not thought of the Yeshiva Rachel." These sentences at the beginning of the novel set the tone. We get an idea of the kind of people Anne and Andrea are, and the tension between them, both personality-wise, and of course, as mother and daughter.
Briefly, Annie disapproves on many levels. She sees the Israeli yeshiva as another one of Andrea's whims. She does not like that Andrea, who now wants to be known as Sarai, is looking to rabbis and their wives for advice and life lessons instead of turning to her mother. She perceives the Orthodox way of life as totally anathema to her feminist outlook.
Annie and Andrea maintain a rather stiff correspondence, and Annie is soon contacting Rabbi Cohen, the yeshiva's director. What are Annie's biggest fears? She worries that Andrea may go crazy because she is "not sure that human beings can turn themselves inside out and pick at random their spot in the universe."
Annie is even more stunned when she receives a letter from Rabbi Cohen about the marriage he has arranged for Andrea/Sarai, to a young man he calls Micah. Like Annie, the prospective groom's parents are hardly thrilled. Later, Annie realizes that she and Micah's parents have bonded quickly because "our bond was born of disaster. We were three parents peering down the rabbit hole after our vanishing children." Annie fears "marriage would seal [Andrea] into this place where I could not follow, where my grandchildren would be strangers speaking a language in which I could not even ask for a glass of water, following rules I believed the invention of the human mind, petty, bizarre, and self-righteous. These grandchildren would not extend my mortality and I would die completely at my death. The door would be shut and the story of Andrea done, predictable in its ever-after."
When the wedding is imminent, Micah's parents decide they must intervene. They hire ex-Israeli soldiers to kidnap their son. They offer to have Andrea kidnapped also, but Annie decides that Andrea must live her own life. She alerts the yeshiva, and the entire student body storms the hotel and re-kidnaps Micah. Then he and Andrea/Sarai are spirited away in the night to be married and live near Jerusalem.
Cleverness and humor, often as a reaction to the "crisis," permeate the novel. A strong sense of place in both Jerusalem and New York City, and skillful interplay between Annie's pensive moments and correspondence and the plot's action propel the story at a comfortable pace. While Annie is skeptical of Orthodox Judaism, she expresses her criticism from her own perspective, and is never gratuitously mean or derogatory.
Why is the book entitled Lovingkindness? The title translates to the Hebrew word chesed, which is something you do for someone else — what is good or necessary for them, not what you think they need, or what you would want. For example, if you think that someone who is ill needs orange juice, but the sick person you are "helping" is allergic to citrus, you are not doing them a kindness by providing the drink.
In the same way, Annie realizes that what she may have wanted for herself and hoped for Andrea is not what Andrea wants for her own self. Although Annie has many reservations, she lets Andrea live her own life. While parents make many sacrifices for their children, one can see how challenging it was for Annie to accept Andrea's decision. For readers not yet familiar with the work of Anne Roiphe—a prolific author who will celebrate her 80th birthday in 2015 and whose latest book, Ballad of the Black and Blue Mind, will be published in May—Lovingkindness is an excellent place to begin reading.
---
Kathe Pinchuck, MLS, is a Past Chair of the Sydney Taylor Book Award Committee of the Association of Jewish Libraries. A regular reviewer for the AJL's quarterly newsletter, she made Aliyah to Beit Shemesh in 2012 and blogs at Life Is Like a Library (http://lifelibrary-ksp.blogspot.co.il/).
Want to keep up with every review we post as part of our freelance review project? Follow us on Twitter, "like" us on Facebook, and sign up for our free newsletter!