Author:
Steve Stern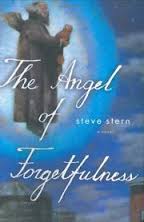 Review by Rachel Unkefer
If one were to make a word-frequency list for Steve Stern's 2005 novel The Angel of Forgetfulness, the top tier would likely be populated by permutations of, or synonyms for, "story." This novel is a kind of metaphysics in which Stern posits stories connect people to each other and to the eternal. In the tradition of his previous five collections of stories and novellas, Stern weaves a magical-realist tale about characters telling stories.
The first of the book's three alternating narrative threads belongs to Saul Bozoff, a nineteen-year-old from Memphis, enrolled in NYU in 1969 for a "trial semester." A distant elderly relative on the Lower East Side, "aunt" Keni, a practitioner of Outsider Art, gives him an unfinished manuscript written by her first husband Nathan Hart, exhorting Saul to complete it–a task that Saul initially rejects. After Keni's death, he embarks on a 15-year-long picaresque journey from the Lower East Side to a farm in Arkansas, a psychiatric hospital in Memphis, the streets of London, the attic of a Prague synagogue, a college near the Berkshires, and back.
The novel's second narrator is the aforementioned Nathan Hart, whose story is told in third person, the reason for which does not become evident until near the end of the book. Nathan's story begins in 1910, the day before he meets Keni in the clothing store where she works. Nathan is a proofreader for the Jewish Daily Forward, and in his spare time writes and later rewrites a story he calls "The Angel of Forgetfulness," whose main character is an angel named Mocky. Nathan has his own picaresque adventures, including working for the mob.
The third narrator is the protagonist of Nathan Hart's story-within-a-story "The Angel of Forgetfulness." Mocky is an angel whose "task was to give to newborns an initiatory nose tweak, which erased any lingering wisdom they might have brought with them out of the womb: God forbid their prenatal knowledge of paradise should prejudice them against life on earth." (This would appear to stem from a traditional story about how humans receive the philtrum–the vertical indentation between mouth and nose.) While on earth attending a birth, Mocky falls in love with a mortal and fathers a child, Nachman, who straddles the boundary between heaven and earth.
The three narratives wind around each other in seven rotations. By the book's conclusion, the reader sees how the parallel experiences of the characters in each section have hinted all along at a final satisfying unity. Throughout, Stern's descriptive language is lush and precise: "The room was crammed with ponderous furniture: a mahogany sideboard, a barge-size sofa, a pair of grease-stained morris chairs with cushions like craters." The tone ranges from comical and bawdy ("An inveterate exhibitionist, Deirdre was in the habit of playing a card game with herself in the dayroom that amounted to strip solitaire."), to a dark humor reminiscent of Kafka, to wistfully tragic notes.
The novel is suffused with a sense of mystical possibility, combining elements of Hasidic wisdom, Borgesian magical realism, and Kabbalah. At the same time, the characters are wrestling with how to live here on earth, and Stern makes us feel their struggles with his humor and empathy.
---
Rachel Unkefer's fiction and poetry have appeared in Crab Orchard Review, Citron Review, Prime Number Magazine, and elsewhere. She is a co-founder of WriterHouse, a non-profit writing community center in Charlottesville, Virginia.
Want to keep up with every review we post as part of our freelance review project? Follow us on Twitter, "like" us on Facebook, and sign up for our free newsletter!